Case Study: Lightweight, Noncorrosive Fiberglass Used for Water Treatment Plant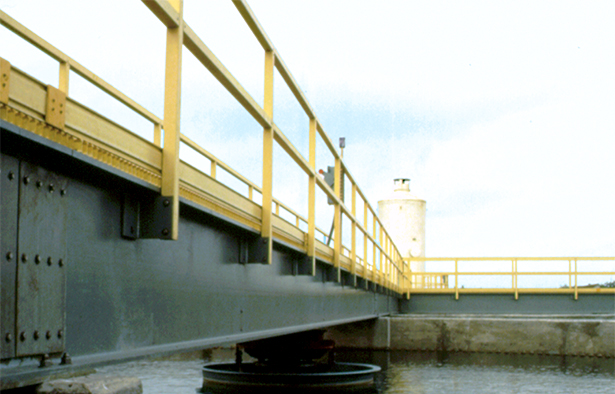 A new water treatment plant in the Rio Grande Valley was constructed of noncorrosive concrete and fiberglass materials for low maintenance and stability. The area, though 40 miles inland, is still affected by salt air from the Gulf of Mexico, as well as acid soil.
The weight savings in FRP was an additional benefit, as soil conditions in the Rio Grande Delta are unstable and subject to movement. The design goal was to keep it simple and not use any metal, according to Jerry Fontaine of Fontaine & Associates of Palestine, Texas, who engineered and designed the Las Rusias Military Highway Supply Corp. water treatment plant.
TECHNICAL DATA
Product: Filter Supports, Walkways, Stairs, Handrail, Ladders and Ladder Cages
Process: Pultrusion
Materials: EXTREN® Series 525 fiberglass reinforced polyester, fire retardant
DURADEK® I-6000 1" fiberglass reinforced vinyl ester grating and stairtreads (currently DURAGRID®)
Sizes: EXTREN® structural shapes:
24" x 7-1/2" x 3/4" I-Beam
1/2" Plate
3" x 3/8" Angle
6" x 3/8" Wide flange beam
8" x 2-3/16 x 3/8" Channel
3" x 3" x 1/4" Angle
5-1/2" x 1/4" F-section
2" x 1/4" Square tube
For: Fontaine & Associates
User: Las Rusias Military Highway Supply Corp.
Fabricated By: Pat Lindsay Associates
The Las Rusias plant treats ground water high in iron manganese. This state-of-the-art facility was designed to be computer operated and constructed with only noncorrosive materials to reduce time and cost of frequent maintenance.
The project required 24" EXTREN® beams with 45' spans to bridge the clarifiers. The only other product capable of bridging this span is steel, which was too heavy for the project, situated on unstable ground. Filter supports consisted of 24" beams with 1/2" plate to support 30" of sand and gravel. The 24" web had numerous holes for filtering the water flow.
The handrail was constructed to ASTM F-1092-87 specifications with EXTREN® components. Additionally, weirs were constructed from EXTREN® plate.