Case Study: World's Longest FRP Suspension Bridge is in Kentucky!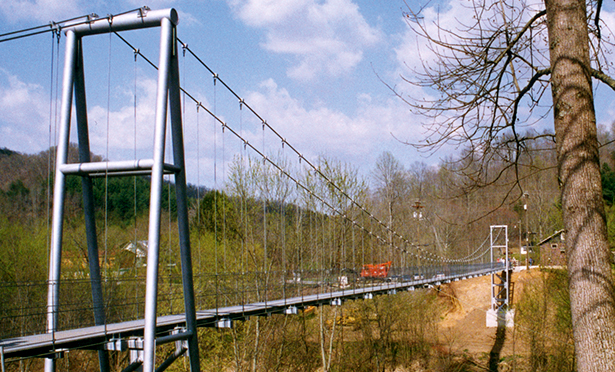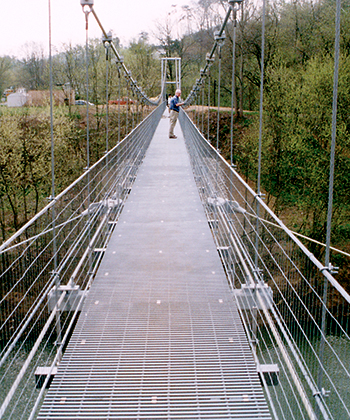 A footbridge spanning 420-ft. over the Levisa Fork of the Big Sandy River in Johnson County, Kentucky has a composite deck, making it the longest FRP suspension bridge in the world (surpassing the Aberfeldy Bridge in Scotland). The bridge deck was designed by Dr. Issam Harik, civil engineering professor at the University of Kentucky, along with doctoral student Chris Hill. Galvanized steel towers and suspension cables support the pultruded fiberglass decking fabricated with EXTREN® beams for the stringers and DURAGRID® grating for the deck floor.
The original wooden bridge, built in 1930's, had fallen into disrepair and forced the residents of the community of River to make an hour-long automobile drive to reach their local post office, church, friends and family. Many of the residents continued to brave the unsafe footbridge instead.
TECHNICAL DATA
Product: Composite Bridge Deck
Process: Pultrusion, Fiberglass Fabrication
Materials:
EXTREN Series 525 fiberglass reinforced polyester, fire retardant structural shapes
DURAGRID fiberglass reinforced vinyl ester, fire retardant grating
For: Big Sandy Area Development District Levisa Fork of Big Sandy River, Kentucky
The $527,560 renovation project involved numerous agencies and individuals to complete the funding and construction to make this a reality for the residents of River, KY. Bush and Burchett were the contractors and Bocook Engineering and S.E.A. Engineers, Inc. performed the bridge design. Strongwell fabricated the bridge deck.
"This thing will last a hundred years and it's virtually maintenance free," boasts Freddie Gobble, project manager for the owner, Big Sandy Area Development District.