Modern Apartment Complex Stays Classy by Using FRP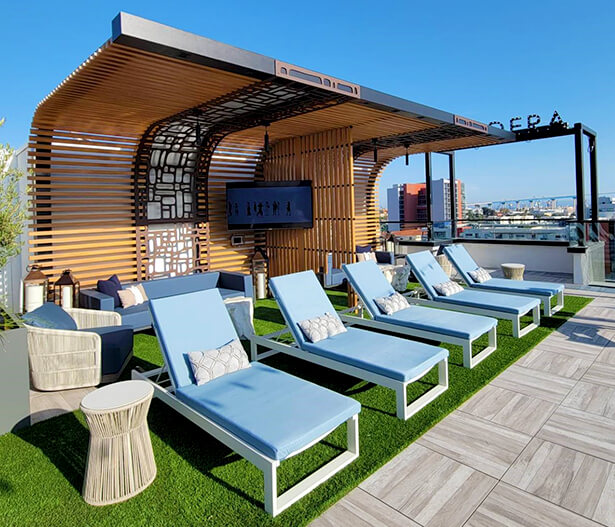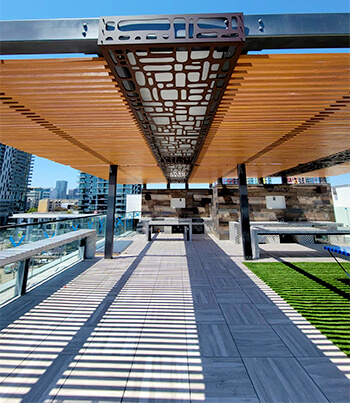 Known for a dynamic downtown and close proximity to the beach, San Diego, California, has undergone a housing revitalization designed to match its hip and trendy landscape.
Within the downtown area, a leading developer worked to build a seven-story rental community with over 350 apartments. The LEED-certified apartment complex was designed with luxurious accommodations.
Aluminum was originally specified into the design for many of the facility's large exterior living structures due to weight and on-site fabrication limitations. However, issues concerning corrosion and intense UV exposure arose. PORTER FRP Solutions initiated the sourcing of fiberglass components as a more suitable alternative to solve the challenging environmental needs of the building's prominent outdoor structures.
TECHNICAL DATA
Product: Apartment Complex Cabana, Pergola, Awning, and Flower Boxes
Process: Pultrusion, Fabrication
Materials & Sizes:
EXTREN® Structural Shapes:




For: PORTER FRP Solutions
User: A downtown San Diego, CA apartment complex
On top of the building sits a 5,100 square-foot sky lounge, the premiere accoutrement of the building, outfitted with a complete spa, pool, and lounge area. The area boasts spectacular views of the bay and downtown area. Adjacent to the pool sits a pergola-style cabana constructed with EXTREN® fiberglass structural shapes and plates. To create a wooden slat resemblance, 2" x 2" tubes were painted to look like grained wood texture. EXTREN® tubes were also used for the columns and beams of the rooftop bar and kitchen. Each of the 6"x 9" tubes were coated with metallic paint to produce a custom finish.
In another rooftop canopy application, the cabana design carried over to an outdoor social area. 1/4" fiberglass plate was used to fabricate lightweight planter boxes housing living shrubs and natural foliage.

The center of the housing complex contains a courtyard area featuring a brick oven within a communal kitchen for its residents and their guests. In this instance, PORTER FRP Solutions attached the textured wood facade on FRP EXTREN® tubes to the vertical supports of the kitchen awning to create floating planter boxes.
At the conclusion of installation, building management, residents, guests, and installers were impressed with the materials, build quality, outcome, and design of all FRP structures.