Getting Back to Business – But Outdoors with Fiberglass Products
No matter how it is marketed, outdoor furniture composed of aluminium, steel, or timber is never weatherproof. There will always be an element of maintenance and restoration. Wooden structures must be repainted or varnished. Metal parts may need to be roughened right down to the base metal, re-primed, and finally coated. These maintenance processes are not only unavoidable for architectures serving long life cycles while exposed to the elements, they are also costly and time-consuming.
Fiberglass products are different. Unlike metal or wood, fiberglass is comprised of a tightly-bound glass fibre mesh in a high-performance polymeric resin. This close-knit structure makes it impermeable to water and exceptionally weather resistant. Manufacturers can also directly pigment the resin so that bright and vibrant colours aren't applied as coatings after the fact. The aesthetic properties of outdoor fiberglass products are ingrained in the material, which means they will not chip away over time.
Why the Unique Weatherability of Fiberglass Products Matters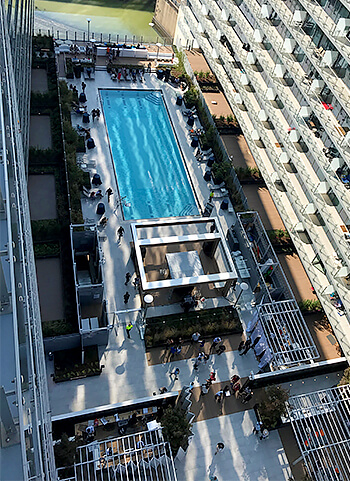 Businesses the world over are continuing to struggle with the ramifications of COVID-19, with researchers estimating that there will be no return to a pre-pandemic level of normalcy until the end of 2021. Regulators the world over are attempting to establish standards for businesses so they can operate with a certain level of confidence during these challenging times. A common thread in the theme of finding a new normal has been moving business outdoors wherever possible.
Al fresco dining. Outdoor gym classes. Even pop-up salons in communal spaces. Small and medium enterprises (SMEs) have shown exceptional ingenuity in the early months of the pandemic. But the long-term economic viability of these measures is difficult to assess, particularly with the winter months approaching.
Fiberglass products have already been employed in a wide range of outdoor architectural applications. They could provide a unique boon to companies looking to get back to business by moving outdoors. It is not only the outstanding weather-resistance of fiberglass products that makes them so uniquely suited to this enterprise, however. Their excellent customisability and ease-of-assembly makes fiberglass products ideal for businesses looking to impress their customers, and to instil confidence in returning consumers, without ever breaking the bank.
Fiberglass Products for the Outdoors
At Strongwell, we have designed and supplied custom fiberglass solutions for an impossibly wide range of application areas. These stem from cellular rooftop screening to interactive art exhibits. There is no limit to the creative ingenuity of our team.
One example of a fiberglass product that is perfect for temporary and permanent outdoor spaces alike is our molded DURAGRATE® system. This is commonly used as a flooring or subflooring material that is both lightweight but resistant to heavy bi-directional loads. We tailor all our DURAGRATE® fibgerlass products to suit customer specifications, from unique aesthetic qualities to tight geometries.
Another example would be our multi-purpose EXTREN® fiberglass shapes which are available in an extremely wide range of sizes and profiles to facilitate the construction of diverse structures.
Strongwell's catalogue of fiberglass products has not been designed with COVID-19 regulations in mind. However, with a flexible design mentality built on decades of material expertise, we are confident in our ability to deliver custom fiberglass products that can help you adapt to the new normal. Contact us today if you would like to learn more.