Custom Handrail Design Adds Beauty to Theme Park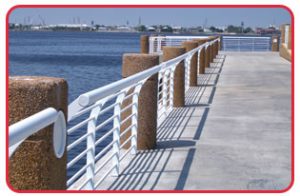 A day dock at Moody Gardens theme park in Galveston, Texas, has been outfitted with a custom handrail system that uses several of Strongwell's pultruded fiberglass structural profiles. The handrail system lines the perimeter of the dock that serves as a loading area for passengers taking cruises around Galveston Island. Given the corrosive saltwater environment, a fiberglass handrail system was the perfect choice for low maintenance and long-lasting performance.
Strongwell worked with its distributor, I. M. Pena, to develop a unique and visually appealing design for the day dock. The result was a handrail system that features Strongwell's 3/4" plate for the posts, 3" round tube for the top rail, 1" solid bar for the center rails and ADA compliant 1.9" round SAFRAIL™ for the top rail.
The project managers at Moody Gardens are very pleased with the look of the installation, which was completed by Broome Welding with the assistance of I. M. Pena. They also love the fact that the handrail system will remain virtually maintenance-free for years to come!