Design and Installation Considerations for Fiberglass Sheet Piling in Construction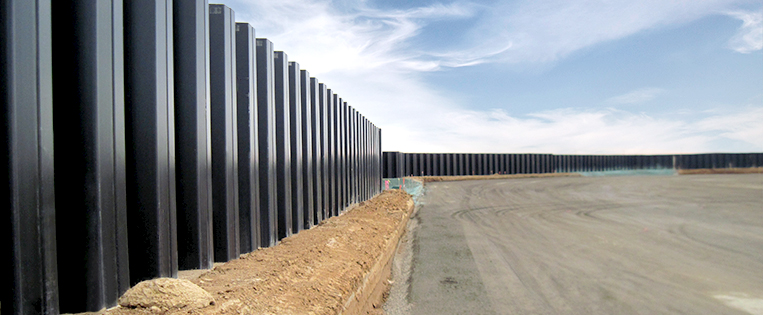 Many of today's tried-and-true construction techniques have been around for decades, with iterative material innovations bringing them up to the standard for modern structures. Sheet piling is a prime example. It was first implemented around the turn of the 20th Century when large-scale industrial construction began reaching a new zenith. The aim was to use wood or steel sheet pile sections to create permanent or temporary retaining walls, clearing construction zones of earth, water, or other filling materials. This approach, and these materials, are still widely used today. However, sheet piles aren't exempt from that innovative material drive mentioned before. Today, FRP composite sheet piling provides a new degree of performance for building permanent structures.
Fiberglass sheet piles are sheets of fiberglass designed with interlocking edges and used as a temporary or permanent barrier. These sheets fit together with enhanced strength and stability to be used in a range of construction applications, such as excavation settings or harsh marine environments. Despite its many benefits, numerous design and installation considerations must be considered when using fiberglass sheet piling in construction. Throughout this blog post, we will look into what they are and why they are important.  
Advantages of Fiberglass Sheet Piling
Fiberglass is commonly favored in many industries for its wide range of benefits. Not only is it extremely high strength, but it also offers high corrosion resistance and long engineering life. Below, we look further at some of the other advantages. 
Fiberglass is more cost-effective than traditional materials like concrete, metal, and wood. This is because it is easier to customize, transport and install and has a longer service life.
Fiberglass can be engineered into any size or shape through custom molds, thus offering a wide range of benefits to applications such as boats, fixtures, pipes, tanks, and more. The flexibility helps meet specific product requirements, leading to better products. 
Minimal maintenance required
As mentioned, minimal maintenance has cost-effective and environmental benefits for a project. It also reduces the time needed for specialized workers on fiberglass-based projects. 
Resistant to various chemicals, rust, and saltwater
Fiberglass is resistant to many chemicals and environmental solutions, adding to its corrosion resistance. This is why it is commonly chosen for harsh environments such as marine and chemical industries.
Stronger than traditional materials, such as concrete and steel
Due to its high strength-to-weight ratio and high tensile strength, fiberglass outperforms concrete and steel for many industrial applications. It has outstanding durability and strength, which is necessary for marine applications.
Despite all the many advantages of fiberglass in construction and harsh environment applications, there are still several aspects of a project that must be considered so that it can be implemented successfully. These include design and installation considerations, each covering various aspects. 
Design Considerations
When using fiberglass sheet piling in construction applications, there are some crucial aspects of the piling design to be considered. First of all, it's important to determine what will be present in the environment, including soil conditions, water pressure, or load capacity. These will all impact the type of design used and whether the material can withstand the environment.  
Alignment and coordination of sheet pile wall

Depth of installation

Flexibility for extreme weather conditions

Soil types and foundations

Type of wall, such as anchored or cantilever
Installation Considerations
Once the design has been decided, the installation considerations are crucial for the efficiency and longevity of the sheet piling. This includes the equipment and techniques used and ensuring the installation team has the expert knowledge to install the piling accurately. Quality control measures must be introduced during installation so that required standards are met. Once installed, further monitoring will be necessary to identify any potential problems.
Common sheet piling installation methods include pile driving, panel driving with sheet staggering, and pitch and drive. These methods can be implemented through various driving systems, such as air/steam hammers, hydraulic hammers, single-acting drop hammers, vibratory hammers, and other options.
Strongwell and Fiberglass Sheet Piling Solutions
Strongwell manufactures high-quality fiber-reinforced polymer (FRP) products for a range of industries and applications worldwide. Our fiberglass sheet piling is also referred to as fiber-reinforced polymer composite or FRP sheet piles, and it is one of the most robust products available on the market. Fiberglass is becoming a more common option in sheet piling over traditional materials such as steel because it is cost-effective and requires minimal maintenance, which results in long service life. 
Our fiberglass sheet piling is developed under the UltraComposite™ brand and is used in harsh settings where components may be susceptible to rot, rust, corrosion, and other damage by environmental factors. One such example is in marine applications, but other construction applications also benefit from FRP sheet piling. 
To learn more about this environmentally friendly, cost-effective product, please contact a member of Strongwell today, and we'll be happy to discuss our solutions with you.