Fiberglass Handrail & Fencing Offers Low-Maintenance, High Strength and Long-Term Aesthetic Qualities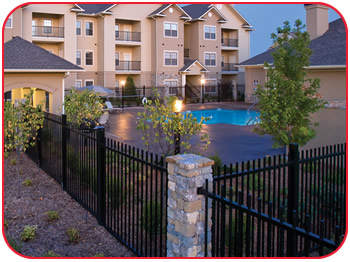 Rupe Building Company, LLC prides itself on the company's multi-family construction experience. In 2009, the builder was in need of a low-maintenance, high-strength handrail and fencing solution that would meet local building codes and blend aesthetically with a new luxury apartment project in Tulsa, Oklahoma.
Rupe found exactly what they were seeking with STRONGRAIL®, Strongwell's architectural handrail and fencing system. Strongwell designed the system for use in architectural applications that require high-strength, low-maintenance and long-term aesthetic appeal. The standard systems are fabricated from pultruded fiberglass components produced by Strongwell and molded thermoplastic connectors.
STRONGRAIL® systems can be made to meet ADA requirements, adding safety and beauty to any property.
Rupe installed STRONGRAIL®handrail onto the apartment's balconies and stairways. Rupe also used a STRONGRAIL® fencing system to line the apartment complex's pool area.
Rupe reports that the STRONGRAIL® installation was quickly installed and that after one year, the handrail remains in excellent condition. One look at the project will confirm STRONGRAIL®'s aesthetic qualities and resilience. For more information about STRONGRAIL® and Strongwell's other architectural products, visit Strongwell's Architectural Solutions web page.