FRP for Floating Structures and Components
Fibre reinforced polymers (FRP) have been used in marine applications since the commercial-viability of the material was first being explored, with the advent of an all-composite boat in the mid-20th century. Since then, the lightweight and corrosion resistant properties of the material have found increasing use in offshore civil facilities and for marine transport. FRP reinforced with flame retardant phenolic resin is widely used to produce personnel platforms on offshore oil and gas facilities, and lightweight FRP pontoons form the basis of several aquatic vehicles, including catamarans and floatplanes.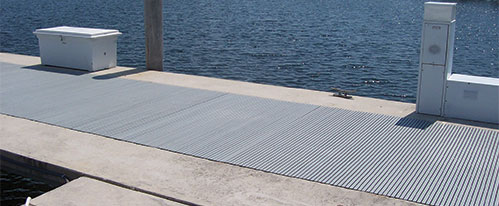 Marine engineers are increasingly turning towards FRP as a viable alternative to traditional materials for floating pontoons in industrial and recreational spaces. Typical marine superstructures, such as industrial operating platforms and floating docks are manufactured using a combination of structural steel and concrete. Buoyancy is provided by additional airtight floats which counteract the high-density and weight profile of the overall floating structure. This represents significant mechanical requirements with proportionally high cost requirements.
FRP Pontoons for Mining Applications
DURAGRID® grating and EXTREN® structural FRP shapes have been used to fabricate floating pontoon structures to support heavyweight mechanical pumps for dewatering mines and quarries. This procedure is critical for reducing the water level in pits and shafts to workable levels of dryness and stability. The superior weight-to-strength ratios of FRP compared to steel represents significant improvements to platform buoyancy, particularly when mounted with integral equipment. Established steel and concrete arrangements have been used for dewatering applications, but FRP pontoons can offer improved capacity gains and significantly easier construction.
Want to learn more? Read our blog post: Five Tips for Fiberglass FRP Grating Selection
FRP Floating Docks for Water Treatment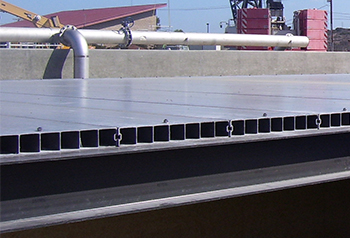 Floating docks constructed using DURAGRID® and EXTREN® products have also been constructed for water treatment facilities, with suspended platforms designed to accommodate multiple personnel with aerating equipment. This application benefits significantly from the corrosion resistant behaviour of FRP, which is practically impervious to water permeation and corrosion via effluent materials. Marine-grade steel is generally resistant to corrosion, but the consistently varying bacterial concentrations of the effluent require material solutions with sturdier resistances to multiple corrosives.
Fiberglass Solutions from Strongwell
Strongwell has provided a range of fiberglass solutions for bespoke floating structures in the civil, recreational, and academic spaces. With our support, customers have fabricated a range of novel components and structures including a fiberglass-concrete canoe, a unique floating office, and a range of buoyant platforms for industrial purposes.
Read more about the use of FRP Phenolic Resin Products for the Oil and Gas Industry for offshore facilities. Or, if you would like more information about our FRP solutions for marine applications, simple contact us for more details.