Molded Vs. Pultruded Fiberglass Grating: Which is Best?
Fiberglass grating is a composite material which is produced by a combination of resin and fiberglass. Fiberglass grating does not corrode or rust as steel grating does and, as such, it finds use in corrosive environments to decrease maintenance costs. It is used in a broad range of applications such as walkways and overhead platforms as it can be weight-bearing between spans.
Fiberglass composite materials are being used in place of traditional materials in many areas with major-asset owners innovating and increasing the application of these materials.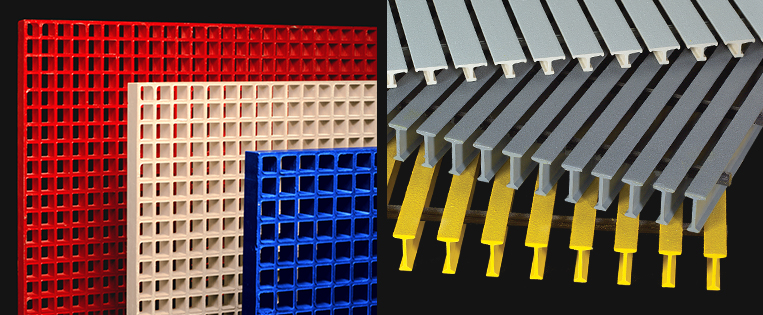 What is Molded Fiberglass Grating?
Molded fiberglass grating is made up of alternating directional layers of continuous glass fiber for fortitude. This is in addition to resin, which consolidates fibers and makes up the shape and corrosion-resistance. Because the strength is bidirectional, molded grating can withstand cutouts in the panel for equipment without the need for additional support around the opening.
Molded fiberglass grating has extremely high impact tolerance and has excellent chemical resistance. It is also highly slip resistant, an attribute which can be enhanced by the addition of grit.
What is Pultruded Fiberglass Grating?
Pultruded fiberglass grating is made up of continuous glass strands which are enclosed in resin and wrapped in a surfacing veil to safeguard the fibers whilst allowing resin to saturate the outermost section of the bar and penetrate between glass fibers.
This process means that a smooth and corrosion-resistant surface can be achieved with a favorable glass/resin ratio. Individual bars are assembled with cross bars and epoxy to mechanically fuse the load bars.
Pultruded fiberglass grating possesses unidirectional strength and has much higher glass content than molded fiberglass grating. This means that it has higher span capability and is often used for applications which need heavier loading or larger spans.
Uses of Fiberglass Grating
Fiberglass grating can be used in many different applications, particularly when there are safety concerns because of liquids or oils on the floor as well as in corrosive environments which require chemical resistance.
Some of the applications which are well-suited to fiberglass grating are:
Protective shielding
Machinery housing
Walkways
Raised floors and stairways
Platforms
Some industries are well suited to molded fiberglass, such as:
Food processing plants
Commercial aquariums
Bottling lines
Chemical plants
Lubricant oil facilities
Pulp and paper plants
Beverage canning facilities
Fiberglass Grating Solutions from Strongwell
At Strongwell, we provide both molded and pultruded fiberglass grating solutions. DURAGRATE® is our molded fiberglass grating offering with a high-quality mesh grating panel. DURAGRATE® is exclusively made in the U.S.A., fire retardant, low in conductivity, light weight, impact resistant, cost effective, and easy to install. This fiberglass grating is fully compatible with FGMC standards.
DURADEK® and DURAGRID® are our high strength pultruded bar grating brands which can be used in a similar way to traditional metal grates of molded fiberglass grating with the addition of inherent pultrusion benefits. This pultruded fiberglass grating works well as a substitute for aluminum or steel gratings where avoiding frequent replacement costs would be beneficial.
DURADEK® is offered in a limited number of colors and configuration whilst strategically producing stock quantities so Strongwell can keep costs at a more comparable price to traditional molded grating. This means it is a more viable, cost-effective alternative without compromising the benefits. DURAGRID® is a fully-customizable grating series when bespoke configurations or performance characteristics are desired.
Pultruded and molded fiberglass grating options can both be provided by Strongwell. If you would like our expert advice on which type would suit your application, contact us today. Alternatively, read our five tips on FRP grating selection for more insights.