Using Pultruded Fiberglass in Modular Buildings
Pultrusion is one of the most efficient fiberglass manufacturing processes ever developed, breaking the mold in terms of production speeds and part customizability. Being able to fabricate precise structural shapes with finely-tailored compositional and geometric properties is increasingly important for virtually every market on the planet. As a result, pultruded fiberglass continues to satisfy these increasing demands for a wide variety of industries, from architecture to energy and gas.
Strongwell is one of the world's leading pultruded fiberglass specialists. Our proficiency in this advanced continuous manufacturing process stems back decades, and we have successfully furnished many customers around the globe with tailormade pultruded products for numerous structural applications.
Modular construction is one of the many applications of building materials based on structural FRP (fiber reinforced polymers), yet there are numerous bottlenecks in the fiberglass molding process that can hinder project schedules for modular units. Pultruded fiberglass excels over molded alternatives when it comes to meeting tight tolerances and delivery schedules, ensuring the manufacturing process suits the needs of both permanent and temporary structures.
What are Modular Buildings & How Does Pultruded Fiberglass Help?
Modular buildings can be anything from a temporary office block to a pre-fabricated home. They differ from conventional construction projects by making use of cost- and time-saving offsite construction methods, such as pultrusion. Fiberglass lends itself well to such construction processes owing to its exceptional strength-to-weight characteristics.
Offsite construction often described as prefabrication, usually involves a mixture of planning, design, engineering, and transport of semi-finished building materials. These can be rapidly and easily assembled at the construction site to significantly reduce project timeframes and on-site labor intensity. Pultruded fiberglass exceeds traditional structural materials (concrete, steel, timber, etc.) when it comes to prefabrication because it can be easily and cost-efficiently engineered in custom shapes, machined to tight end-user tolerances, assembled safely using standard tools, and shipped without excessive weight concerns.
To learn more, read our Case Study: Composites Provides Pump Houses with Modular Access
In the context of modular buildings: Entire rooms can be digitally-rendered in pultruded fiberglass using on-site specifications, off-site manufacturing on a specialized factory floor, transported in a semi-finished state to the construction site, and finally, put together using a fraction of the manpower required for conventional construction.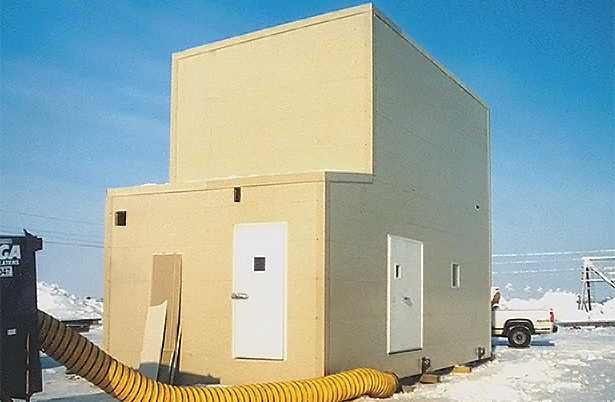 Pultruded Fiberglass Products from Strongwell
At Strongwell, we have a comprehensive catalog of pultruded fiberglass products suitable for modular buildings, both temporary and permanent. DURASHIELD® and DURASHIELD HC® building panels are our primary line of structural shapes, comprising a range of foam core tongue-and-groove panels of pultruded fiberglass which can be engineered using a choice of premium polyesters and resins.
Explore our full range of structural building panels here
Alongside modular buildings, our pultruded fiberglass structural shapes routinely satisfy the demands of applications as varied as:
Buildings for EMI testing
Cooling towers
Chemical processing enclosures
Electrical equipment enclosures
Radar, radio, and TV antenna enclosures
Refer to our DURASHIELD® brochure for full specifications. Or, to talk about specific project requirements, simply contact a member of the Strongwell team today.