Pultrusion: Resin Systems and Flame Retardancy
Pultrusion is the method of producing continuous lengths of reinforced polymer structures using a pulling system. This technique is incredibly versatile, lending itself to the fabrication of a limitless range of profiles – provided the right shape forming and curing die is available.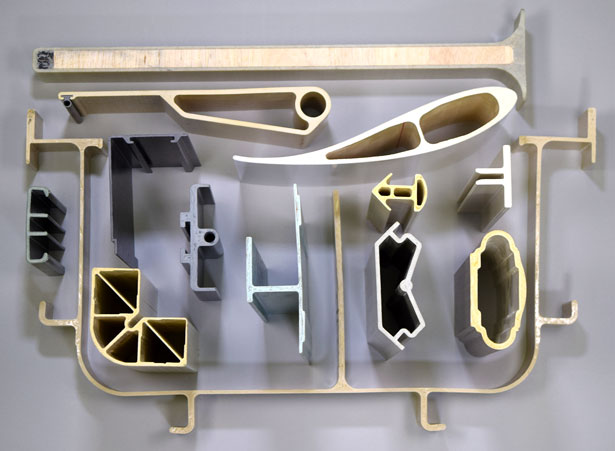 Net-shape workpieces are produced on-line in a single uninterrupted process, requiring little-to-no further finishing and formatting once the profile has been cut to size using the integrated cutting saw. Unlike structural timber, which must be cured before use, fiberglass pultrusions gain their end-use thermomechanical properties through this singular preparation process. Profiles can even be engineered to meet the highest standards of flame testing with no further treatment or coating after the fact.
Achieving Flame Retardancy via Pultrusion
A combination of material characteristics and sub-processes factor into the superior performance of reinforced fiber pultrusions. Critical among these is the "wet-out" stage, when the continuous reinforcement materials are saturated in a user-defined resin system. This plays a crucial role in the structural stability of the shape, and in guaranteeing the part can perform adequately in end-use conditions. The type of resin used is the main determiner of the part's thermomechanical and chemical characteristics, including flame retardance.
For example: Off-shore oil and gas structures have conflicting operational demands with respect to infrastructure. Materials must be extremely tough and high-strength without a commensurately high weight profile. They must also contend with aggressive corrosives and meet extremely high-standards for flame retardancy to comply with the relevant health and safety regulations. Fiberglass pultrusions for the oil and gas sector typically exploit premium polyester and vinyl ester resins to comply with ASTM standard E84 - 07, which relates to the surface burning characteristics of building materials.
Flame Retardancy Standards
The American Society for Testing and Materials (ASTM) establish a range of safety standards for virtually any materials and goods, providing quantitative benchmarks of quality. These are used to grade products in terms of performance brackets, and to exceed minimum regulatory requirements for safety-critical applications.
ASTM E84 – 07 is one of the most widely-accepted standards for flame retardancy, testing the surface burn characteristics of products in response to a vertical burner. Materials that are intended for use in exposed surfaces (ceilings, walls, etc.) are tested by mounting them in the ceiling position above an ignition source. The flame spread of the ignition source is then observed and analysed, alongside smoking properties.
This standard describes materials that resist the spread of fire even in response to direct impingement. It also characterizes goods that will not shed flaming matter, mitigating dynamic safety concerns in the event of a severe fire. Fiberglass pultrusions like railings, grating, stairways, and ladders can be engineered for extremely high standards of flame retardancy to guarantee safe operations in the oil and gas sector.
Fireproof Pultrusions from Strongwell
Strongwell is the world's leading manufacturer of reinforced polymer profiles using pultrusion methods, with a storied history of providing tailor-made systems for demanding areas of application. We can provide a catalog of flame retardant products that meet strict regulatory standards, alongside proprietary systems built for the utmost reliability in extreme conditions. If you would like to learn more about the latter, read our previous blog post Phenolic Resin Products for the Oil and Gas Industry. In the context of phenolic resins, ASTM F3059 becomes the new gold standard of flame retardancy.
Contact a member of the Strongwell team today with any questions about the pultrusion process, or how to tailor your new polymeric structure with a tailored resin system.