Ron Snow Retires After 27 Years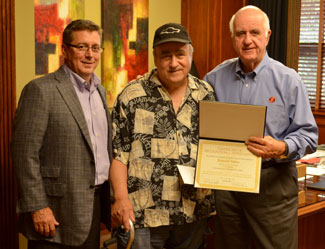 Ron Snow (CSW & Inventory Specialist-Bristol) was recognized on June 30th, in honor of his retirement from Strongwell. Ron was with Strongwell for 27 years. During his tenure at Strongwell, Ron worked in multiple capacities: from pultrusion operator to Hand Layup, then Shipping and Receiving Clerk. He was promoted to CSW & Inventory Specialist in 2006.
His retirement plan consists of helping his sister get settled in their mother's house, taking classes on oil painting and mastering the art of swimming. Ron plans to travel frequently during his retirement.
Strongwell congratulates and thanks Ron for his hard work and dedication over the years.