Promoting Workplace Safety with FRP
Fiberglass reinforced plastic (FRP) is a material which is suited to many different types of work place safety applications and industrial process equipment. The properties of FRP are superior to many other materials which are conventionally used in such applications, such as steel.
What is FRP?
FRP material is made up of thermosetting resins and fiberglass, this combination is the main composition of FRP products. The resin creates environmental and chemical resistance in FRP products and the glass fiber creates the structural strength.
FRP is highly corrosion resistant and is able to withstand chemical attack and extreme temperatures. This also means that it is extremely durable, does not require large amounts of maintenance, is extremely easy to repair and has a long life span.
FRP is exceptionally strong and is able to support heavy loads. Despite this, it is a lightweight material itself and is able to be formed into complex shapes without impacting its strength. This is why FRP is extremely well-suited to applications that promote work place safety such as in handrails and grates.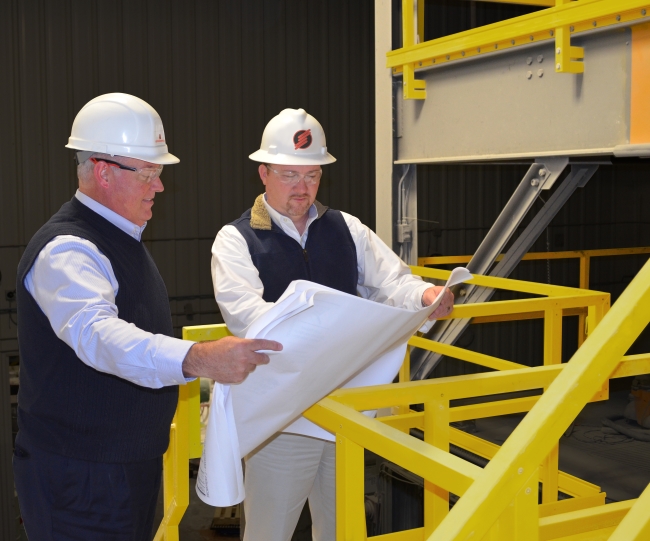 FRP Handrails
FRP handrails are used for platforms, walkway handrails and guardrails and commercial stair rails. At Strongwell, our SAFRAIL™ systems have been designed from FRP with molded thermoplastic connectors. These railing systems are suited to environments such as chemical, industrial, wastewater treatment plants as FRP is corrosion-resistant. Additionally, FRP handrails are suited to commercial structures that are frequently exposed to urban and salt air corrosion.
Industrial railings made from FRP are lightweight and simple to assemble. They are highly durable, lasting longer than aluminum or steel railings and are much more cost-effective.
FRP Grating
FRP grating is well suited to a number of applications, particularly those in which liquids or oils may be on the floor causing safety concerns. FRP grating is also beneficial for corrosive environments where grating requires chemical resistance.
FRP grating is used in industries such as:
Bottling lines
Pulp and paper plants
Commercial aquariums
Lubricant oil facilities
Food processing plants
Beverage canning facilities
As well as in applications such as:
Machinery housing
Protective shielding
Platforms
Raised floors and stairways
Walkways
FRP grating can be either molded or pultruded grating solutions. Our DURAGRATE® molded fiberglass grating is produced using a high-quality mesh grating panel. This FRP  grating is lightweight, impact resistant, easy to install, fire retardant and fully compatible with FGMC standards.
For high-strength FRP pultruded bar grating, Strongwell has both DURADEK® and DURAGRID® which have inherent pultrusion benefits as well as the benefits of  FRP molded grating. Pultruded FRP grating is beneficial as it avoids the need for frequent replacement. You can read more about FRP grating here.
If you would like to find out more about the FRP products we stock at Strongwell, contact us today.