Corrosion Resistance of Vinyl Ester Resin
Fiberglass reinforced polymer (FRP), or simply fiberglass, is a composite product comprising a high-strength material matrix. Tough textiles reinforced with silicate fibers are bound with a liquid polymer, such as vinyl ester resin, which imparts stiffness to the fabric while impregnating the component with distinct corrosion, thermal, and abrasion resistance properties.
The type of resin used is critical for determining the end-use properties of fiberglass components. Typical applications require general use resins such as premium or isophthalic polyester, which provide excellent corrosion resistance for various chemical environments including distilled and freshwater, alongside seawater of varying salinity. Aggressive chemical applications require a more robust binder, such as vinyl ester resin.
This blog post will explore the properties of vinyl ester resin in more detail.
What is Vinyl Ester Resin?
Epoxies can be converted to vinyl ester resin through esterification with acidic catalysts, creating an intermediate product with mechanical strengths lower than that of epoxy resins but greater than polyester. It offers improved thermodynamic resistance over polyester alongside a broader range of resistance to aggressive corrosives. This is partially due to the enhanced cross-bonding of vinyl esters to the core fabric, creating a more comprehensive fiberglass composite.
Read More: How and Why are Thermoset Resins used in Pultrusion?
Vinyl ester resin is used to saturate a continuous web of fiberglass material through pultrusion prior to forming, curing, and profiling of the net shapes.  In fact, the fiberglass industry is one of the world's largest consumers of vinyl ester resin, with composite materials manufacturing representing the material's primary use.
Applications of Vinyl Ester Resin
At Strongwell, we routinely use both polyester and vinyl ester resins to produce fiberglass components for a range of applications, including: structural shapes; grating and decking; handrails; paneling components; and many more.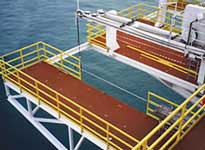 The conditions of the component's end-use environment are vital for deciding which resin is most appropriate. This must be predicted based on a robust understanding of the application area and the corrosive agents that the composite may be exposed to throughout its service life. Walkover grating for industrial facilities, for example, may need to withstand humidity, thermal cycling, standing water, chemical cleaning agents, and various corrosives unique to the process operations.
Want to learn more about the use of resins in pultrusion? Read our previous blog post Phenolic Resin Products for the Oil and Gas Industry
DURAGRATE® molded grating reinforced with premium isophthalic polyester is generally resistant to various acids and caustic solutions at ambient temperatures, but its corrosive resistance is significantly impaired at temperatures above 100°F. By comparison, DURAGRATE® products reinforced with vinyl ester resin boast broad resistance to processing chemicals at ambient temperatures, with little to no loss of performance up to 160°F. These components have demonstrated extended performance in various industrial facilities including food and beverage processing, and fermentation facilities.
Strongwell's FRP Products
Strongwell supplies an extensive range of fiberglass products that can be reinforced with vinyl ester resins. These offer good strength improvements over conventional materials, with significantly improved corrosion resistance over the service life of the product.
If you would like any more information about our resin matrix capabilities, please do not hesitate to contact us directly.